Both the films releasing this Friday Badla and Captain Marvel are out to get blood. But it seems Captain Marvel will take centre stage, though the distinguished Badla team seems unfazed, Captain Marvel gets a much wider release than Badla in India and in 4 languages, English, Hindi, Tamil and Telugu.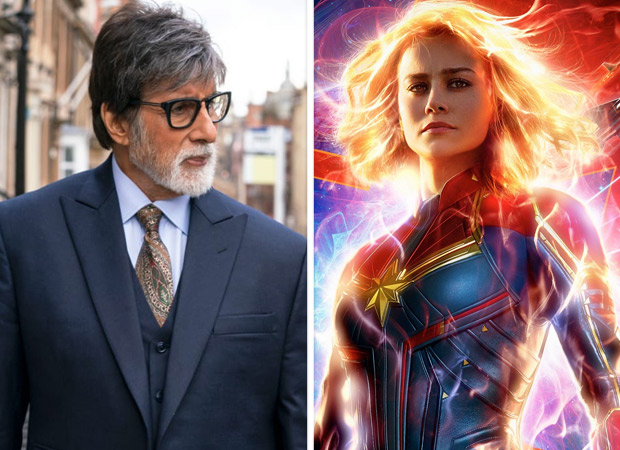 The producers Disney expect the film to crack open the box office. Says a source from Disney, "Captain Marvel is Marvel's first woman superhero film. And we expect it to be every bit as successful all across the world as DC's Wonder Woman."
In India Captain Marvel gets optimum screens and theatres. Badla in spite of Shah Rukh Khan as producer, is lagging behind in terms of release outlets. Apparently Badla is getting only 700-750 screens across India which is a shockingly low number considering Amitabh and Tapsee Pannu have starred in the game-changing Pink and director Sujoy Ghosh has to his credit a hit like Kahaani. Admittedly Sujoy's other film including his last release Kahaani 2 were thundering flops.
Trade pundit Amod Mehra is optimistic. "Badla being a suspense thriller from the stable of Sujoy Ghosh is a much-awaited film. Though the producers are planning a limited release with just 750 screens the film should do well at the box office."
Adds trade analyst Atul Mohan, "This week should be exciting. First big release from Hollywood of 2019 and a whodunit thriller from Red Chillies. Badla may not be looking for as wide a release The budget of this one is controlled one and should reap good profits for the makers. Captain Marvel is looking to score well, and as I said this is the first big title from Hollywood this year. And last year Hollywood made around Rs. 900 crore from the Indian box office."
Says trade analyst Girish Johar, "Badla has big names attached to it. Big B sir (Amitabh Bachchan), Tapsee, Sujoy and Shah Rukh Khan backing it. It has surely raised the curiosity level. The trailer has been liked by the audiences and has got a decent intrigue value to it as well. The bandwidth of the Badla audience is limited, though, ranging from niche and high-end in top cities of the country and will be strongly dependent on its WOM (word of mouth) to carry it through the day and over the weekend
Girish Johar admits Captain Marvel is formidable competition for Badla. "Captain Marvel ...what to say...is a PROUD film from the MARVEL ENTERPRISE. It has FANTASTIC production values, superb trailer, great international buzz and hype backing it. The film is being released in regional languages as well and has got good traction from its youth and metro audiences alike. Combined all languages ...it has all the chances to lead at the box office on Friday and over the weekend by a good margin, keeping behind all the competition."
But Tapsee Pannu who plays the lead in Badla is unfazed by the competition. "I am a huge fan of Avengers and Marvel films. But I have no impression of Captain Marvel as an audience so that's why it's not as bothersome as Avengers or any other established super-hero will be."
Besides, hasn't Tapsee played the superhero in Naam Shabana, Baby and Pink?
Also Read: Badla Unplugged: Amitabh Bachchan confesses to Shah Rukh Khan that he was rejected for a radio show due to his voice