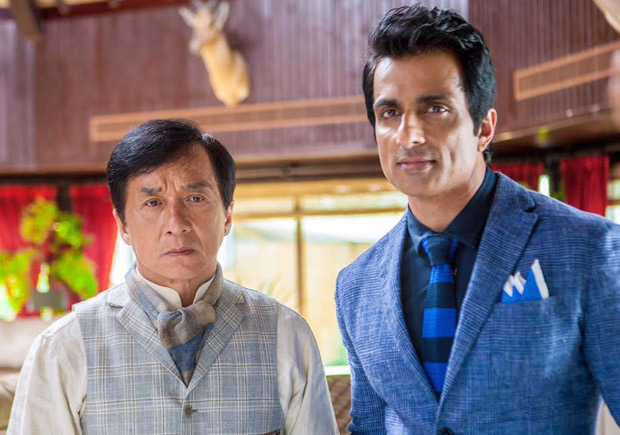 Will Shahrukh Khan and Hrithik Roshan have Jackie Chan for company this January? Well, this is what it seemed liked when the promo of his next release Kung Fu Yoga was unveiled a couple of days back. The film's official release date has been announced as 28th January and this is during the weekend when Shahrukh Khan and Hrithik Roshan would be battling it out with their Raees and Kaabil respectively.
"The promo of the film has just been unveiled and the release date there clearly says 28th January," says an observer, "Though this is a Saturday, one wondered if the release in India happened a day earlier on a regular Friday. So far, the announcement has been a China release but considering the fact that India has become a hot market for global release of major films, one expected a date and time release here as well."
What makes the release of Kung Fu Yoga in India all the more important is the fact that a major part of the Chinese film is set in India and features Bollywood actors like Sonu Sood, Disha Patani and Amyra Dastur. Made in Chinese and English, the film has Jackie Chan playing an archaeology professor from China who collaborates with Indians to locate India's lost Magadha treasure in Tibet.
"Sonu Sood has been quite high on the film ever since he started shooting for the film a few months back. Moreover, this is also Disha's second film after MS Dhoni - The Untold Story. For Amyra too, it is a comeback of sorts after her Emraan Hashmi starrer Mr. X. She has also performed quite a few dare devil stunts in the film. The film is a Chinese-Indian collaboration which means it is bound to see a major release in the country," a trade source adds.
Promotion of the film has already begun and Jackie Chan is slated to arrive in India in the middle of January. That should further heat up the scenario since Jackie Chan is a much loved star in India and his movies have been traditionally popular.
However, our sources now confirm that the film would instead be arriving on 3rd February in India.
"It makes sense since the biggest challenge for the distributors would have been to figure out how to accommodate Kung Fu Yoga alongside Raees and Kaabil, if at all the release were to happen in the Republic Day weekend itself," an insider comments, "There are 5000 odd prominent screens across the country and these too are less for both Raees and Kaabil to fit in. Even on a conservative scale, Kung Fu Yoga would warrant over 800 screens. Had the film actually released on 28th January in India, the situation would have become pretty complicated for one and all."
Well, thankfully, the three sided clash between Jackie Chan, Shahrukh Khan and Hrithik Roshan has been averted and now audiences would be glad to catch each of the three films as per their time and convenience.