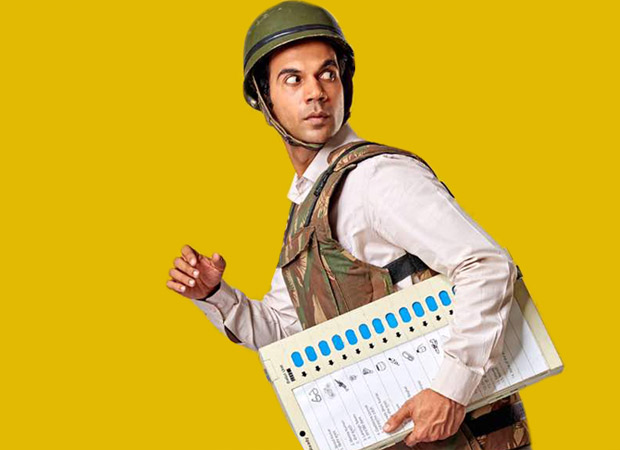 The second half of September is always an exciting one. After all, it's the time when the Film Federation of India (FFI) decides which film should be the official entry of India to the Academy Awards, also known as the Oscars. And this time, it's a Hindi film that has got the coveted chance. That flick is none other than Eros International and Colour Yellow Productions' Newton, which incidentally has also released today in theatres.
Newton is a story of a rookie government officer who goes to the Naxal-infested jungles of Chhattisgarh to conduct free and fair elections there and how his righteousness leads to hilarious and even shocking consequences. The lead role is essayed by Rajkummar Rao and the film also stars Pankaj Tripathi, Raghubir Yadav, Anjali Patil and Raghubir Yadav. It is directed by Amit Masurkar, who rose to prominence with the indie film Sulemani Keeda. Newton had its world premiere at the 67th Berlin International Film Festival.
Aanand L Rai of Colour Yellow Productions said, "Good films need to reach the audience. Period. We as a production company are lucky to be in a place that we can be instrumental in this process. Over the years people have found connect with Colour Yellow Productions and good storytelling and we don't want to let go of any opportunity that we get in this regard. Newton is an important film and we will call it an investment not a punt. We really believe the film it's getting what is deserves and hope it soars more heights."
Director Amit Masurkar says, "It's a great honour for us to represent India at the Oscars. We hope this film will bring attention to the need to strengthen democracy in our country. The film is in theatres at the moment and this announcement will help us reach out to a larger audience."
Manish Mundra, founder of Drishyam Films and producer of Newton says, "This is the most incredible news of our lives – all of our hard work and faith is finally paying off. Newton is a very important film and we cannot thank the Film Federation of India jury enough for recognising and appreciating our efforts. There is truly no greater honour than representing our country at the global stage. And for the news to be announced on the day of Newton's theatrical release across India – the stars are truly aligning for us. The critics have spoken, and now we cannot wait for our Indian audiences to go watch the film in the theatres."
Sunil Lulla, Managing Director, Eros International Media Ltd says, "It gives us immense pleasure that Newton is India's official entry to Oscars 2018. We at Eros are extremely proud as this film is totally deserving of this huge honour and we will continue to back good cinema as always."
This is the second time in years that a film currently running in theatres has been selected as India's official entry to the Oscars. The last such film in recent times that also had a similar experience was the 2012 film Barfi, starring Ranbir Kapoor, Priyanka Chopra and Ileana D'Cruz. The selection of Barfi however led to major controversies as the film was criticized for lifting scenes from prominent Hollywood and other world cinema films. The year after, 2013, saw the biggest fight of Oscar race ever. A small Gujarati film, The Good Road, was sent to Oscars which angered and shocked everyone in the industry. It was the same year when The Lunchbox, starring Irrfan Khan, Nimrat Kaur and Nawazuddin Siddiqui, had hit screens and had created waves across the world like never before. It was believed that The Lunchbox had high chances of picking an Oscar and that India lost a chance of winning the golden trophy. From 2014 onwards however, all the choices have been controversy-free – the small budget Liar's Dice, hard-hitting Marathi film Court and the intense Tamil thriller Visaranai respectively.
The collections of Newton have been very poor till now and it remains to be seen if this news give a boost to its earnings in the days to come.